In recent years, the indie developers have been able to produce more interesting and often much better games than those of major publishers. They don't have to stick to charts, estimates or other things that bind creativity. A good example is The Tower of Light - a game from 2016, which presented not only an exploration of mental health, but offered a slightly different kind of horror. The developers are now working on another slightly different kind of horror in Martha is Dead, which will be released soon and will deal with mental problems, superstitions and the horrors of war. We had the opportunity to find out more about the game about the game.
First of all, could you briefly introduce yourself?
I'm Luca Dalcò, an old Italian man... yes, I feel quite old in this field where all are young!
I studied mathematics and then started with 3D graphics decades ago. The dream of making a game was there from when I was a child and I programmed with BASIC on the ZX-Spectrum.
I worked for several years in the theatre as a virtual scenographer using big projected images. I taught at the University of Architecture.
Yes, there are many things that have little in common with each other, but it is precisely this diversity of experience that has helped me in an industry where you have to know how to do everything!
Why did you choose the name Martha?
Because it is both Italian (without the "h") and German. I thought it was a good name for a mixed Italian and German family. The real question would be: Why Giulia? The answer isn't easy indeed. I liked it, but this is not the only reason. I needed an Italian name.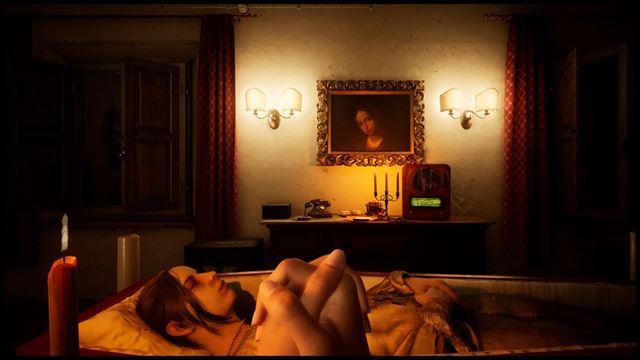 What are the main differences and common aspects between Town of Light and Martha is Dead?
Both The Town of Light and Martha Is Dead have a fragile girl as a protagonist, very different from each other, but both affected by mental health problems, which is a common theme of both games. Both games are also set in the real location of Tuscany, Italy, one in Maremma the other in Chiantishire. They are also both set in a precise historical period, The Town of Light started in 1938 and ended in 1944, whereas Martha Is Dead starts in 1944.
From a narrative point of view the main difference is probably that The Town of Light tells a story, while Martha Is Dead is a mix, but mainly it go through events that happen while you are playing.  Another important difference is that Martha Is Dead faces supernatural elements.
In terms of gameplay the two games are very different, The Town of Light was simpler and more linear, while Martha Is Dead offers many cues, and interaction with a variety of objects. 
The game is set during WW2. Why did you choose this setting?
World War 2 is a period that fascinates me very much, a dark period that heralded severe socio-cultural changes, that goes well with a story of a tormented interiority.
In this vision, a tormented historical period is the perfect mirror of the protagonist's soul.
You recreated Tuscany setting along with some places or even historical music. Are there any real life events that the game is based on?
No, Martha Is Dead is not based on the story of a real person. What is true is that in those days the battle of Chianti was raging, and a population, which until then had experienced the war superficially, found itself squeezed between the violence of the German resistance and the advance of the Allies. A terrible time.
Where did you get inspiration for superstitious aspects of the game?
Reading books of the time, I realised that superstition was something very present and it seemed the perfect addition to the story. I say it was perfect because superstition is something that fragile people often cling to, looking for help and comfort. And that is exactly what happens to our protagonist.
A lot of presentation of the game is based on marionettes. What is their meaning in the game?
They have a very important meaning. It is a game that Giulia used as a child and that she returns to use as an adult to retrieve the remove childhood memories. Not only that, Giulia also uses them to try to reconstruct the events she was unable to witness. It is a world of her own in which she can withdraw to reflect.
I got a small old school Japanese survival horror vibe from some moments from the trailers so far. Are you influenced by them in any capacity?
I can't honestly say. But it is possible. I draw inspiration from cinema mainly and I am often struck by peculiar and original aspects of Far Eastern horror cinema. From a visual point of view mainly.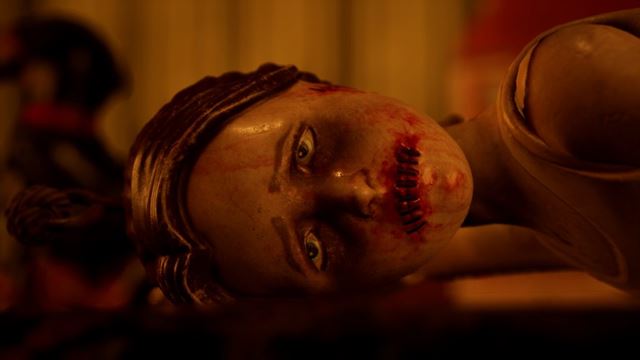 LKA is still a relatively new indie team. How do you deal with the fact that Martha is Dead is one of the most anticipated horror games this year?
I react with anxiety! The whole team reacts anxiously!
We are a small team and we still feel inadequate at times because we lack the "commercial" spirit, but the work our publisher Wired Productions has done is incredible. They bet on a title that is not for everyone, without EVER asking us to censor anything and giving it exceptional visibility.
When I said I wanted to add something to the game that would certainly be difficult to communicate and digest for some people, and I had some fears too, Leo Zullo, Managing Director at Wired Productions, always told me "Do it, what's the problem? If it makes sense, just do it!"
What a performance!
Is it difficult to bring this level of graphics and details with indie team?
A good part of our team (and me too) come from a 3D graphics background, so we have a big advantage in creating good 3D graphics. Unreal helps a lot by making it relatively easy to find the right rendering.
But nevertheless, yes, it is difficult. It's hard because it takes a lot of time, a lot of time, and consequently a lot of resources that are not always readily available to an indie team.