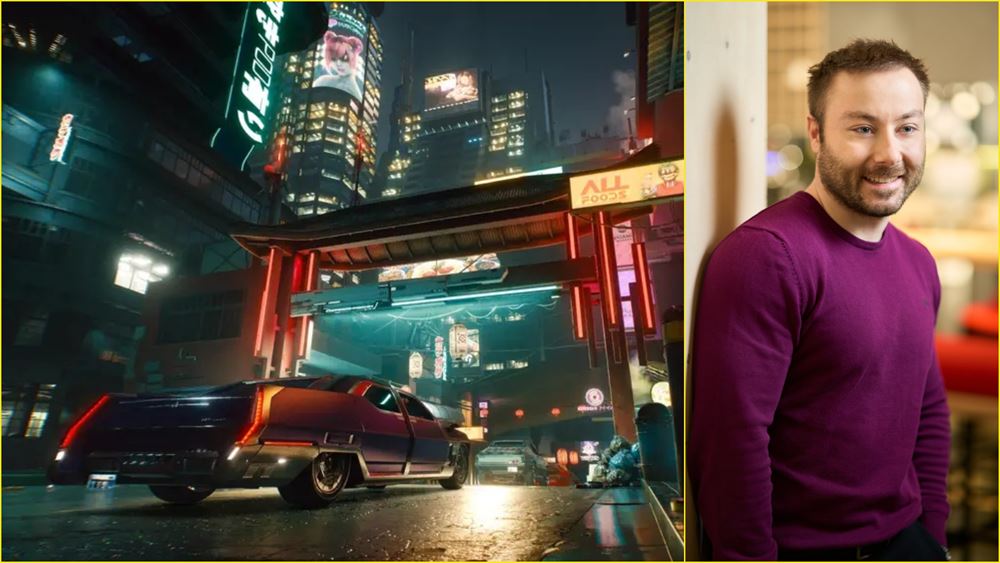 Kacper Niepokolczycki is a Lead Environment Artist at CD Projekt RED, where he worked on The Witcher 3: Wild Hunt and the final expansion, Blood and Wine. He also collaborated with The Farm 51 on such titles as Painkiller HD, Deadfall Adventures and Get Even. During the Digital Dragons conference in Krakow, he took the stage to deliver a talk about the process of creating Night City in Cyberpunk 2077 from the early design stage up to the final quality pass. We had the opportunity to talk to him about how his team created the dystopian world of Cyberpunk 2077, what they learned from developing The Witcher and how huge changes in the studio might affect future projects, including Cyberpunk expansions and The Witcher 4.
At CD Projekt RED you worked on The Witcher 3, its expansions and then Cyberpunk 2077. On which title are you currently working on? 
I'm still in the Cyberpunk universe. We're trying to expand that, but that's all I can say.
Going from forests and medieval castles to neon-filled streets and futuristic structures seems like an extreme. Has your experience with developing The Witcher affected Cyberpunk?
I think we learned a lot during any project we've worked on. The Witcher was something so different from Cyberpunk, but we established some ideas, some solutions, some way of thinking about how we can create believable worlds. But with Cyberpunk, there was like a set of absolutely different challenges and different things we had to figure out how to work with. So it's really hard to say precisely what we draw from The Witcher, but in general our decoration pipe line from the Witcher was improved in CP. Of Course we also had a huge artistic background from the Witcher games. First of all, we always try to build a huge world. The Witcher's different, because you have "a few towns and the forests", right? But a forest is so much easier to build. It can also be very complex, but think about having a city as big as almost The Witcher map - that's an insanely different set of rules and set of things that we had to figure out. So we actually learned a lot from doing that project. We did a lot of testing, we played it, we tried to find what's fun, what's not fun and then eliminate it. So it's an absolutely different way of doing the game. Because, as I said in my talk - going to first person [perspective] from third-person - that was like a huge first step that made us understand how this game is going to be absolutely different. Different perspective, different metrics, different way of how the player explores the world. We absolutely had a base there, but we had to explore such a new way of thinking and understanding challenges and make the game fun.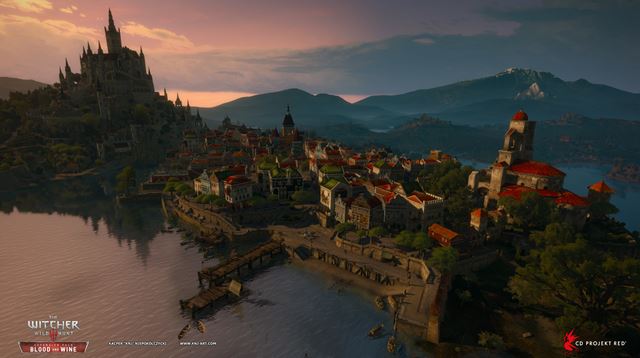 You mentioned that you had to go from 3rd person to 1st person point of view. Was this transition challenging?
Extremely. Because, first of all, we had to figure out the whole new metric system for the game. So we had to figure out how big spaces we're gonna build for the player to navigate through them smoothly. Then, for example, asset quality - they have to have much higher fidelity - because you can actually look at assets from a close-up. In The Wicher you cannot do that. Of course, you get cutscenes, but those were kind of upgraded for the cutscene's sake; but here you can almost go and put your face into everything.
The assets and textures had to have much more quality, so it was demanding on that part. As a player you can actually be there - it's much more immersive. That was actually the biggest reason to go to 1st person - to be more immersed in this world. But making this world immersive is such a big challenge as well. And on top of that, you're trying to build something that doesn't exist, in a way that it's [set in the] future but we don't know how the future is actually going to be. So we have to figure out how to make it believable - that's another set of rules. So it was like a challenge, by challenge and we just tried to figure out what we can do to make it look, feel and play - first of all, fun - second of all, actually believable. And it's up to you guys to decide whether we succeeded or not. Hopefully, we did.
Cyberpunk 2077 is based on a tabletop game by Mike Pondsmith which is set in the year 2020. Did you consult with him how his world should evolve during those 57 years to the version we experience in Cyberpunk 2077?
Mike was involved all the time. He was in the studio very often; I know he was talking to every single possible director or lead if there were any concerns. I know we could actually even ask him questions. I never actually personally worked with him but I know he was always very involved. And I know that whenever there were some concerns, he was trying to help solve those issues to make sure the world is consistent. As far as I know, he was super happy with the ideas that we came up with. Because 2020 is one thing, 2077 is another thing. There was a 57 year gap we had to build on; so he was very involved in the process of trying to make sure the world is consistent yet 57 years older than what he created.
Did you get some feedback from him when you released the game?
Personally not, but our directors were involved in talking to him. However, as far as I know he was super happy with how the Night City is actually looking. I think he said that it was exactly how he imagined it. So I hope it's a good thing.
Both The Witcher and CP2077 are based on existing IPs from well known creators. Is there any way you could compare working with Andrzej Sapkowski and Mike Pondsmith and their input in the games?
That's too big of a question for me. On the Witcher I was there for like a year working on the Witcher 3 and then I was working on the expansions. I had nothing to do with Mr. Sapkowski on that; higher decision-makers talked to him, so I had no idea how it went down. With Mike I just know he was super hands on, super involved, he was very often in our studio. Actually, he was here a few times in Krakow. So we talked back then, but that was a very casual talk, not like a very professional talk. But Mike was super interested in how the game went. So that was maybe the difference from my perspective, that Mike was super hands on and I never met Andrzej (laugh).
How closely do you work with the Level Design team and the Narrative team? Do you just build the world and all the quests and activities are fitted into your environment? Or do you get certain requests on how the locations should look like?
It depends. Very often we know that we're gonna have a combat space or like a quest location somewhere. First of all, we have to understand what we're going to build, right? So if it's going to be a warehouse and there's going to be a boss battle, you have to understand what we're going to build. So in most cases we just have requests like, 'Guys we have to have something there because of the story reasons.', and then we talk about it, like, 'Ok, what is this place supposed to be, how the gameplay should be?', and the same goes with level designers. We just sit down and talk like, 'So we wanna have this gameplay - fine, but in what place it might be and how we can build it to make it believable?' But also there are very often places and situations where we have something done by artists - which was just like a random place - and it was so cool that the quest designers picked it up saying, 'We're gonna use this place for a quest and we're gonna slightly shift it.' Then we talked about how we're gonna shift it to support our needs. But again, it's just conversation, communication, trying to figure out what's the best approach to make everyone happy. But we talk all the time. Right now, communication is key for us and we talk every single day.
Night city is full of alleys and rooms where people live their everyday lives. When you design these spaces that aren't necessarily tied to a quest, do you have an idea what should happen in these environments or do the other teams make it alive?
We have this division between quests locations - which are super combat heavy and those are designed by level designers - and then we have those "open world" parts which are less combat heavy - there's no combat there by design. You can attack someone, but there's no design for it. Those "open world" parts are designed and built by artists. However, again, very often when they're cool enough or they need it for something else, they're picked up by designers and then we have a conversation about how we can support their needs and just do it like that.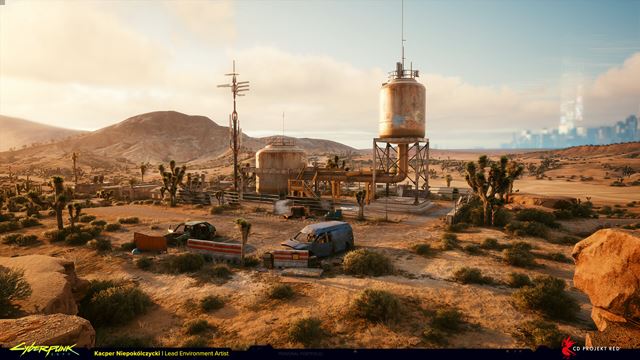 Compared to the Witcher games, CP2077 was obviously focused on the verticality of the city. When did you decide to use this approach during the development and how did it affect the design of the game and the quests and mainly the gameplay?
For me, one of those things that make games fun is actually having more verticality possibilities. Flat surfaces are not fun at all. You have more levels - it's fun - very basically said, but I believe in that. So we tried to put in as much as we could; we tried to work with level designers to support it, but I do understand it as well. And of course, a big city gives you opportunities like that, because you have big buildings, skyscrapers. So we tried to use that as much as we could. But again, the design of the quest very often goes like - there's a story for the quest and then you go in and try to find how you can use the environments to tell that story. So sometimes, the story didn't need it that much, but we still tried to use it somehow just to make the gameplay fun. But on top of that, we had those gigs for example. The gigs were slightly more flexible, because there were just very small well-designed combat spaces with less story needed, so that gave us more opportunities. Whereas quests are very often very strict to the story. And it was just like, 'Let's add this, let's do it like that, let's go up there, let's go in this building', and just see how it goes and then iterate on this.
Was this approach inspired by environments in films like Dredd or Blade Runner which you mentioned during your talk? Or did you purposely use verticality to expand the gameplay?
I think it's both ways. Again, going back to the question about the Witcher for example - we understand what makes players and us actually feel we're having fun playing the game and also other games - you have to know what you like and what you don't like. That's why it's super important to play other games, to understand what the fun-factor might be.
And it was actually both. For example, Kabuki - there was nothing on those rooftops when I started doing those, because I just wanted to have a passage on the rooftops. But at some point the level designers and quest designers picked this up and they were like, 'Now we're gonna put a quest here, we're gonna put a gig there', and it just grew. So it goes both ways. Sometimes it's design choices just because people like it - as I did - and it was fine enough, so they decided to put a quest in those places.
Now that the game is out for some time and there has been both positive and negative feedback from the critics and players, is there anything that you would do differently?
It's always easier to talk about something that's been done and now go back and change things. It's easier. Definitely it was a huge learning experience for us. Because it was not perfect, or at least, not as perfect as we hoped it might be; but I think it was this impulse for us to understand that we have to fix something. Right now we are having huge, huge changes in the company - cultural changes, pipeline changes. Actually, we had a lot of talk about how we should approach our next game. It's a bit too early to talk a little bit more about it, but the thing is - we learn a lot and we're trying to adapt all those lessons into the new RED 2.0. It's going steadily, there's still a lot of work ahead of us, but it's already making positive changes in the company.
We know that your studio has decided to switch to Unreal Engine 5. In what way does it streamline your work?
I would love to talk about this topic, but I cannot right now. Sorry about that. It's too early.
We're anticipating some major expansions for Cyberpunk 2077. Can you tell us what we can expect? 
Something cool, something awesome. Just be patient. You're gonna love it.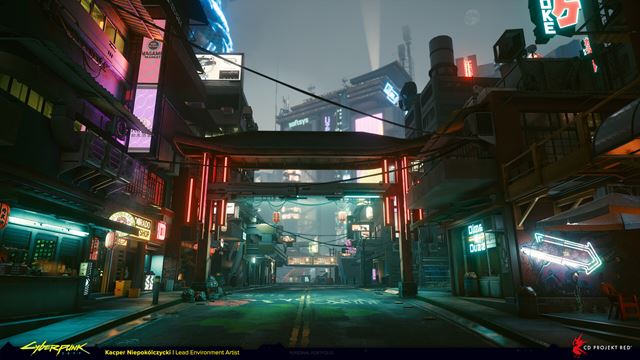 In Night City we can explore Kabuki, Little China and Japantown, which are sub-districts with asian aesthetics. But in the Cyberpunk lore there are different other countries, like the UK, Poland or the Soviet Union. Have you thought about how these types of cultures could affect Night City? 
We did. Again, I was mostly involved in those parts which you said, that were more asian culture related or US culture related. However, we did have a lot of talks about different communities. But it was also coming down to just base it on the book and then figure out what other districts we want to have. So I cannot talk about any other districts which I was not very much involved with, apart from Kabuki; or for example, our team was working on Arroyo, Rancho Coronado, which are still very much US-like districts. However, you have Pacifica which is a very Haitian-like district with a very specific language and accent. But yeah, we tried to put in as much as we could, but at some point you have to stop and just ship the game.
What other regions would you like to see in Cyberpunk 2077? 
For me, personally? We have this conversation a lot on whether or not cyberpunk has to be a huge super-metropolitan city, because I don't think it has to be. I think cyberpunk is just a matter of building the world, so I would love to see cyberpunk in less urban environments. It doesn't have to be like Night City. For example, we have the desert - we have Badlads - which is cool. I want to see something more like that. Like, how those people outside of those big metropols live there, how their cyberpunk life can be like? And that's something I would love to explore at some point, but we're gonna see.
CD Projekt RED has released an image with a lynx medallion. Can you confirm the next Witcher game will revolve around the School of the Lynx?
I can confirm that I'm still on the Cyberpunk project and I don't have that much knowledge. I would love to give you more, but honestly, I'm on another project right now, so I don't even know. I know every single detail makes sense there. Just break down the image and maybe you're gonna have some answers.