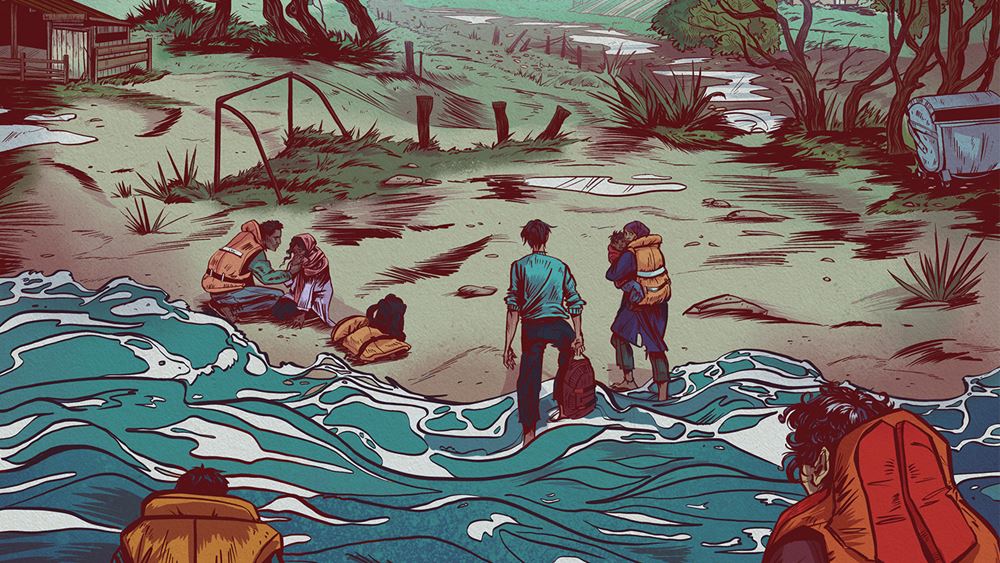 In early May, a new text-based RPG called "We. The Refugees: Ticket to Europe" was released on Steam by the independent Polish team Act Zero. The game didn't receive much attention, but players who tried it out have rated it very positively. And this positive reception isn't just limited to players on Steam and other online platforms. We had the opportunity to take a closer look at it at the Digital Dragons conference, where we also had a conversation with Jędrzej Napiecek, the game's writer and one of its creators.
The developers took on a challenging topic and aimed to present it in a format reminiscent of a book. And there are reasons for that choice. Apart from financial considerations, as it's more cost-effective, there are also content-related reasons. In the game, you become a journalist who monitors the refugee crisis and shapes the world around you through your decisions. Your choices have an impact on the fate of characters and the direction the story takes in subsequent chapters.
Why this topic? Jędrzej briefly revealed: "In 2014, the first reports emerged about people drowning in the Mediterranean Sea while attempting to cross on old boats. This image haunted me for months: What kind of state of mind must one be in to consider crossing the sea on a dinghy a better option than staying on a beautiful beach? Trying to comprehend this became one of the foundations for addressing this topic. At the time, I had recently finished studying screenwriting at film school, and This War of Mine had just been released. This game inspired me, showing that games are mature enough to tell important stories about meaningful topics. I also wanted to be a part of it. Combining these two motivations, I decided that my first game would be about refugees."
However, there have been similar games before. Some attracted more attention than others. What matters is how they handle the topic itself. Whether they only superficially exploit it to gain attention or delve into it deeply. In this case, the authors took it very seriously, conducting thorough research and collaborating with actual refugees, which Jędrzej also explained: "In the years 2015-2018, my main focus was on research (I read 20-30 non-fiction books) and learning game development, while also assembling the team. It was made possible only with the help of Maciej Stańczyk - a game designer whom I met while testing Witcher 3. We joined forces, and after hours of work outside of our day jobs (I was working in TV at the time), we managed to create the first game prototype. With this prototype, we visited the Moria camp on the Greek island of Lesbos, where we showcased the effects of our work to refugees. We quickly realized that our game was naive and based on assumptions that had nothing to do with the truth about refugees."
Jędrzej admits that it wasn't easy. One thing is seeing such a topic in the media and having some distance from it. It's different when you meet the people directly affected by it. The authors went through difficult moments, but ultimately, it helped make the game better: "We experienced a nervous breakdown for a few months, but then we realized what needed to be changed in our game. No matter how many books I read about refugees, I will never be able to portray the emotional state of a refugee reliably. However, I had a lot to say about the researcher-refugee relationship and the hardships involved in creating a work of art on this subject. That's why we ultimately decided to tell this story from the perspective of a journalist (instead of a refugee, as in the first prototype) to metaphorically address the behind-the-scenes dilemmas associated with tackling such a topic."
However, game development is not easy and brings its own challenges, which the authors of this game also faced. But as Jędrzej says, many times, even in the worst situations, he was driven forward by the game itself and his experiences at the beginning of its development: "The project came close to closure on several occasions, such as when we struggled to secure the necessary budget. During moments of crisis, however, I would think back to the refugees I met in Moria, and it would give me strength - it seemed to me that my problems were nothing compared to theirs. I've also always felt that this is an important story - one that needs to be told. In addition, I was always encouraged by the motto of my business partner and game designer Maciej Stańczyk: Every task, even the most complex, requires a finite number of hours to complete it. So every hour - even in crisis - brought us closer to our goal. It helped a lot."
We. The Refugees is a difficult game. Not so much in terms of what it requires from you as players. Actually, anyone willing to read and make decisions in challenging situations can play it. In terms of gameplay, don't expect much more. It is demanding in terms of its theme and the depth of its portrayal. You will encounter situations that you know actually happened and are not pleasant. It may even leave a lump in your throat. However, it is an experience that will help you understand the topic more than a newspaper article because it turns you into one of the protagonists. It will be up to you which path you take on this relatively long journey.