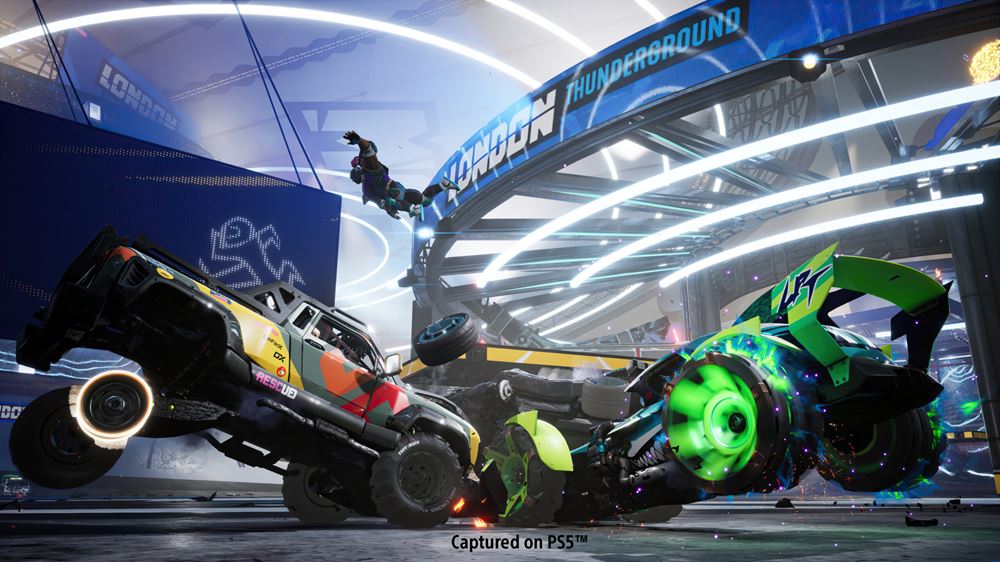 Colin Berry (Game Director at Lucid Games) and John McLaughlin (Senior Producer at XDEV) are two veteran developers with more than 25 years of experience in video games. They worked on Sonic All-Star Racing Transformed, James Bond 007: Blood Stone, Wipeout HD, Wipeout Pulse, Wipeout Pure, and even Motostorm. They recently released their new PS5 exclusive game Destruction AllStars and they talked with us about its past, present and future.
Could you briefly introduce Destruction AllStars to us?
John McLaughlin: I would say Destruction Allstars is a global sporting entertainment event where stars & cars collide. We set out to build a online focused multiplayer game that will grow over time and develop a keen audience, and the type of experience that can only be seen through the PS5's features like DualSense haptic feedback and adaptive triggers, and 4K resolution. We're really happy with how the game is doing so far, and we can't wait to see how the community reacts to some more of the features that we've got coming later in the year.
What were the reasons for postponing the game's release and why did you decide to go straight with PS Plus?
John McLaughlin: As the game was so online focused, it made sense to give the game the widest audience possible, and what better way to do that than with PS Plus.  We already have a thriving community, so already it shows this was the right decision to take, and we're pleased with the decision.
Colin Berry: As a team, we were delighted to launch in PSPlus. It gave us a huge opening audience, and ultimately when you create something, whether it's a game, or a book, or a film, or a piece of writing, you want people to experience it. PSPlus has given us an opportunity to be experienced by a large audience, which is great.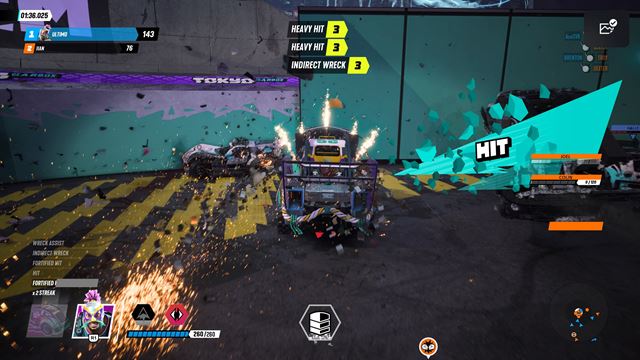 The game has 16 racers, each with unique abilities. Have you been inspired in any way by popular hero shooter games like Overwatch?
Colin Berry: Once we were fleshing out the initial concept, we took inspiration from lots of places, games, films, television. We drew on knowledge and experience from within the team, but we also looked at various games for different aspects, from Rocket League to Burnout, to Destruction Derby, through to Overwatch and Apex Legends and many more. There is no direct influence as the concept is different, but there is always plenty to take on board, and it can be little things - An example would be Rocket League, we are a very different game, our vehicles handle very differently, we are about destruction, but we liked the round length in Rocket League, quick short games.
Is it difficult to balance a racing game with so many characters and different types of vehicles?
John McLaughlin: The beauty of our game, and also the pick up and play nature of the driving model is that non-racing game fans can easily get into this game.  From the start we wanted to target as many players as possible who wanted a game that felt fresh and new.  Vehicle fans will like it, but it will also appeal to those who aren't fans of racing, because at its core, it is not about racing.
Colin Berry: Balancing is always a challenge as there are so many different moving parts, 16 characters each with their own ability, 16 hero vehicles, 12 common vehicles, and multiple game modes. It's a challenge we enjoy.
Obviously with it being online multiplayer, balancing is always being revised as we get feedback from players and additional data, which can highlight overpowered and underpowered characters, abilities and vehicles. A great advantage of modern games being live, is you can tweak and react as players discover things, and that's no different for us as other games out there, reacting and adjusting to ensure the players get the best overall experience from the gameplay balance.
With Destruction AllStars being a game as a service, what can we expect from it in the future?
John McLaughlin: We've got a ton of things planned this year.  Already since launch we have updated the game to balance the game economy.  We have activated the ability to earn all types of in-game currency through playing, or by purchases, but we're still making sure that Destruction AllStars is never pay-to-win.  As well as doing bug fixes and improvements, we are listening to the community and giving them what they are asking for.  Over the coming weeks we also have new skins, new versions of existing modes and double XP weekends just for starters.  And that's before we get onto seasonal content, which will have new ways to play, new characters, new modes and much more.
Colin Berry: We have lots of things planned and in production, characters, modes, challenges. We also have a couple of things coming that people won't be expecting, which I am quite excited about but can't talk about just yet. Sorry!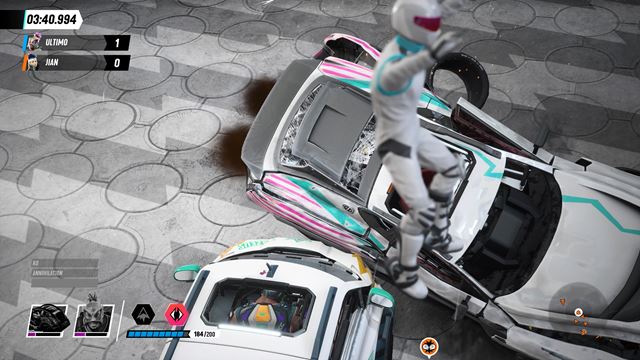 How does the system of free movement outside the vehicles actually work in the game? How can we use this to our advantage in the game?
Colin Berry: Our first step was establishing the core move set, and the core loop for the player, get a vehicle, smash other vehicles, get wrecked, evade other vehicles and work your way to another vehicle. Then we layered in additions, abilities for the characters, hero vehicles, more detailed moves when on foot.
The modes also influence how things plays out; we wanted some modes to demand more on foot play from the player, so something like Stockpile you have to get out of the car, the action of controlling bank has to be done on foot. Whereas in a mode like Carnado, the emphasis is more on the vehicle play, with the core character elements still present but it's a riskier and harder mode on foot.
The game will offer primarily multiplayer experience, but will also include singleplayer content. What can you tell us about the singleplayer experience?
John McLaughlin: Sure, all modes can be played offline.  Players can pick their mode, arena and difficulty and play offline.  You do get extra cinematic wreck cameras as a benefit of playing offline. You can also go into practice mode against very very easy AI so try out what characters suit your playstyle.  It has to be said though, the game was always intended to have a MP focus.
Colin Berry: The main focus of the game is online play, there is offline Arcade mode where you can play against AI, and also the Challenge series which each give you a single player experience, but the focus has always been online play.
John McLaughlin: Challenge series are a selection of seven different events. Each event has three stars that the player can earn, by meeting certain criteria. The more stars the player earns, the more rewards they unlock; one reward for every three stars. Each series is centered around a character and their rival or rivals.  It features some short cinematics that just give a few hints about the characters personalities and motivations for being in Destruction Allstars, and also the interpersonal relationships between the characters.  As we release more series, we learn more about the characters. The first series (Barricado) is free, so everyone should grab it to experience it.  You will also get to play my personal favourite mode.  "Transporter" which is like a Destruction Allstars version of Crazy Taxi.
Colin Berry: The challenge series allow us to experiment a little with events and mechanics, introducing some ideas that wouldn't maybe work in an online environment, but are fun for the player. There are also some challenge events which could work well online, at some point in the future.
For many older players, the game is reminiscent of the classic Destruction Derby. Were you inspired by it? How is AllStars different?
John McLaughlin: There's no direct influence from Destruction Derby in the game.  But the very genesis (not the character) of the idea within XDEV originally was that if we were to make a game like Destruction Derby now, how advanced could we make the damage?  From that question we quickly moved on to wanting a brand new IP.  When we asked Lucid to pitch, we did not ask for a new Destruction Derby, but something new.
From Sony XDEV we went to Lucid with a rough idea of doing a game featuring cars and destruction, and then Lucid came back with a pitch that evolved over further conversations.  The biggest change was very early on, making the decision to have our drivers get out of the car and making the cars disposable, to encourage lots of wrecking. This lets us keep a pace to an online match, you can choose when to ditch your car and trade it in for something faster, or something with a bit more weight behind it to bring a heavy hit to your opponents.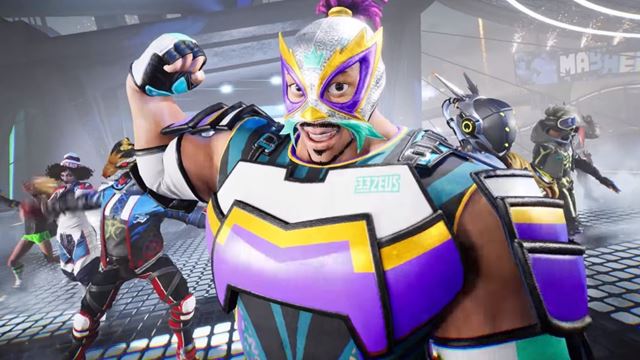 In the past you have worked on Sonic All-Star Racing, Wipeout and other racing games. How did you use this experience to develop Destruction AllStars?
Colin Berry: For the most part, there isn't a direct influence from previous games on the detailed design, but obviously knowledge we've gained from previous titles, just helps in development terms. We have plenty of experience within Lucid, which enabled us to get certain things up and running quickly. I was able to speak the Physics coder and describe what vehicles we might want, and he was then able to take that, and make it work, and bring something to life, that suited the game. So whilst there wasn't direct "lets use that bit of that game we worked on", you use the knowledge gained.
 
From a developer point of view, once we had a concept that both XDEV and Lucid were pleased with, we began to flesh out different aspects of the game. We spent a fair while prototyping, trying different handling models out, different mechanics for the characters, working on systems to bring both the vehicles and characters together. Once we established a core loop, we were able to fill in the detail in and around that.
How did you create a damage model for this game?
Colin Berry: Building a damage model for the game was something we were really interested to take to the next level for Destruction AllStars. We leaned on the technologies and the power of the PS5 to facilitate this. We were able to build damage models that react dynamically to the different types of damage that a vehicle receives. Its something we're very proud of, and only possible thanks to the power of the PS5. You can see this in the game through the different types of damage that vehicles take, from a crash to the side of a car, right down to the traps and hazards in some of the maps that will slice a vehicle in half dynamically.