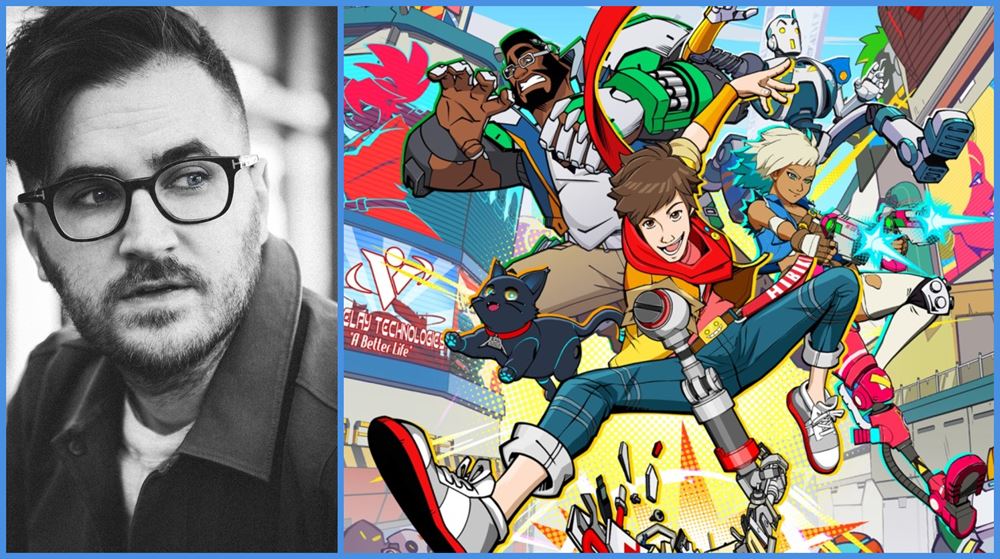 Join us as we delve into the world of Hi-Fi Rush and explore the fascinating journey of game director John Johanas. From his work on The Evil Within 2 to the creation of Hi-Fi Rush, Johanas shares his insights into the decision to pursue a new direction and the inspiration behind the game's unique world. Discover the challenges of combining hack-and-slash action with rhythm gameplay and get a glimpse into the creative process that brings this innovative rhythm action game to life.
Hi-Fi Rush represents a significant departure from horror games. What led to your decision to pursue a completely different direction following The Evil Within series?
Well, personally, I just wanted a kind of refresh from doing two horror games in a row, and we knew that Ghostwire Tokyo was going to be our next project. So I knew that it would feel somewhat similar. But I thought that if we had the opportunity to do something where we could have a bit of fun and try something different, this was our shot to take it. So it just felt like a good time to pitch it internally. Fortunately, the senior management and everyone at the studio were on board with the idea of trying something new, so it worked out.
How did the idea of combining hack-and-slash action with rhythm gameplay came to be?
It was just something I really wanted to try myself as a developer for a long time, but realistically, I think it's kind of a natural combination. It came from me growing up and seeing live shows. Whenever you see a rock concert, there's a lot of physical movement, like a mosh pit or something like that. It's not violent per se, but there's a lot of kinetic energy there, with people moving to the music. And I just wanted to create an experience that felt like that for people who maybe don't see live shows or haven't played a live show before. And, as I mentioned, it just kind of felt natural in the form of an action game. Yeah, figuring out how to make it feel like that took some work, but initially, the idea felt like that.
Hi-Fi Rush is set in a quite unique world. So where did you get the inspiration for creating this world?
Well, it's funny because I specifically wanted to make the world feel like a normal company. So while it is over the top, a lot of the inspiration for the world, for the company of Vandelay Technologies, comes from literally working in a company. And so many times, probably you have felt something like this, or a lot of our users have said the same thing, where they feel like they work in a company that's like this over the top media or technology corporation. But honestly, we didn't have to look very far for inspiration because it's kind of all around us. And we make fun of ourselves a lot in the game. So the idea was something that felt over the top but actually somewhat realistic in that sense. It's a little bit exaggerated, of course, but all the smaller details are actually coming from our experience working in these big companies.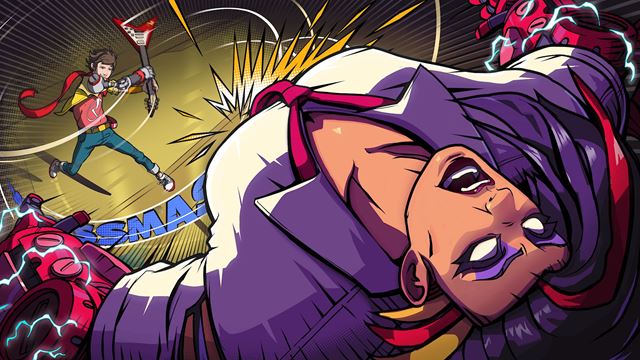 So any specific inspiration for the evil boss?
Yeah, sure. I mean, it's not a joke, but like the head of development, the Zanzo character, that was literally us making fun of ourselves. So things that sometimes I would say are literally in the game. I mean, I don't think I was that abusive to our programmers, I want to believe that. But there are also things the programmer said to Zanzo that have been said to me as well. So, pick it up a notch. But like I said, grounded in reality.
Hack and slash games are still quite common, but this one is combined with rhythm gameplay. So, how challenging was it to create gameplay that is tied to the rhythm of the songs?
I mean, it was very challenging. That's the easy answer. But as you said, there are a lot of hack and slash or action games, and they have a very similar style of play that users are familiar with. We wanted players to relearn how to play those games, but also make it very accessible. So one of the biggest challenges was naturally when you play action games, even if you don't intend to, I think you tend to mash the buttons to attack, like light attack. And the game figures out how to offset that, so you can perform combos and such. But we wanted to train people not to do that and instead press the button in time with the beat because it's actually an easier way to play. It provides a clear understanding of when to attack and other aspects of the game.
And that was very hard at first because your tendency is to press the button a lot. So, we had to try a lot of times, using lots of small elements, whether it's the sound design or the animation, to encourage you not to press the button chaotically but rather in sync with the music. And that took a really, really long time. I'm sure there are still people who don't play it to the rhythm and just mash the buttons. However, we tried to make the game encourage you and provide a lot of positive reinforcement for trying to play with the music. But again, perfecting that took up most of the development time.
Are there any songs you considered for the game that didn't make the cut?
Um, yeah, of course. Yeah, we had a long list of songs we'd like to include. But music licensing is very challenging. It can be expensive, and it can take a very, very long time. And for all those reasons, whether a song was maybe too expensive to license within our budget, or we couldn't locate who had the license anymore, or we simply couldn't get a timely response to fit our schedule, we had to make changes to some of the songs. But almost every song from the list I wanted made it into the game, pretty much.
And there were some that either didn't make the cut, or these were alternate versions in case we couldn't obtain a particular song. Some of the songs were like that. But nothing was a bad compromise or anything like that. Hopefully, in future projects where we license music, we can directly use the artists we want. I don't want to call anybody out or say anything negative about the artists whose songs we couldn't use.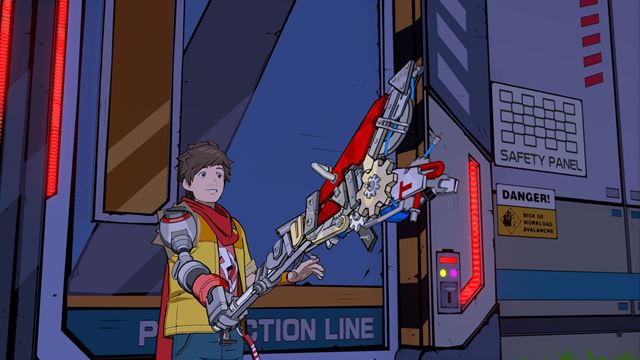 One whole level, almost one whole level, is based on a Prodigy song. So, did you already have the idea for using the song like this when you wrote the song on your list?
That was interesting because that was just a song for kind of a mood. It's like, "Oh, we'd like to have a song like this if we can't get this song." But that stage itself, we knew that the experience of going into a cafeteria where all the robots are and having to fight your way out to reach the boss, was one of the first stage ideas we ever had. When it came to the musical element, it wasn't defined yet, but the situation was. And then we finally said, "Okay, how are we going to map this out? What would we like to happen?" And we thought, "Okay, it would be cool if this section was dedicated to one particular song." So we took that song off the list of songs we'd like to include in the game. Then we started planning it all out - each section, each chorus, each verse. It was like, "What are you doing? How can we make it work with the song?" And we followed it to the point where the bridge of the song represented the bridge the player had to cross to reach the final battle against one of the mini-boss enemies. So sometimes, we're very almost literal in how we use the songs in the structure of the stages, which is fun.
Let's get to the new update. It's focused on a new form of challenge. So why did you choose to expand the game via new challenges and not new content, for example, like new levels or stages?
Yeah, well, one thing is, like, levels for this game take a very, very long time to produce. We try to act on things as quickly as we can. And one of the things that we were surprised to see is that while people did want to see story content, a lot of people were looking for something even more challenging or more as a twist on the battle or test of your skills than the rhythm tower that we have in the game. They just wanted more of pure fighting and pure action in a new way. And so, we had these ideas for this BPM Rush and a randomized version of the Rhythm tower, which was actually like the hard mode of the Rhythm tower. We thought we would be able to get in, but we didn't want to have both be kind of half-baked. So, we said, "Okay, let's focus on one thing." And so, we use this time. We thought, "Okay, we can get this done to not take too long and get it in there, but also do something really interesting and cool and make it feel different." And so, yeah, we kind of just jumped in after we finished making the game. It wasn't like it was in there. We were working on it already when the game was done. We just saw what people wanted. And we had these ideas, and we thought they fit perfectly with the response we're getting.
How long do you plan to support the game, and what can we expect after this update?
Well, I don't like to give away surprises. We've been very good at surprising people with this game. We literally just launched content, so I don't want to say what's coming up next. But I like to think that this is a really cool world we created, and there are lots of interesting things we can do with it. So I'm going to leave my answer as vague as possible for you.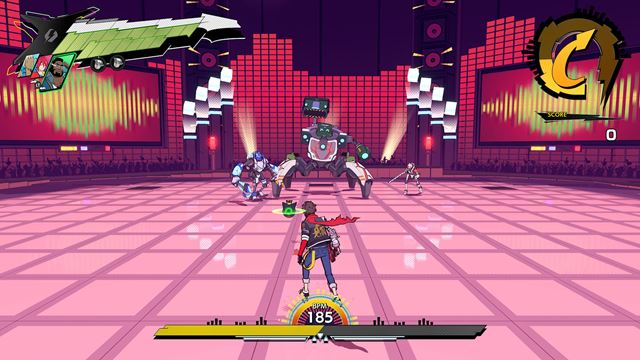 Any plans for a story expansion, for example?
Well, that would fall in the same area as the previous question, right? Yeah, like I said, I was lucky enough to write the game as well, so I have such a huge attachment to these characters. We finished the game, and it feels very open in the sense where there are lots of misadventures or things that can happen. So, yeah, I'd love to always be thinking about...maybe, if it feels right.
Hi-Fi Rush is one of the most pleasant surprises of this year, and the funny thing is that we didn't know about its existence until you released it. So, how did you manage to keep it a secret, and why did you decide to do this kind of shadow drop instead of the usual marketing for video games months before their launch?
It's been in development for a long time, and I want to think it's because everyone who worked on the project was super professional and just not talking about it. Originally, it didn't start with a plan to launch it on the same day as the announcement. But it just so happened that it never leaked. It was kind of a unique game, and probably no one would believe that Tango was making a rhythm action game anyway. That would have been funny.
But as we got closer to the release date timing or window, we saw that marketing also played with the idea of having a very, very short window between announcement and launch. And it wasn't a good time to announce it to get all eyes on it. And then when we kind of found that time of, "Okay, let's announce it and then launch at the same time," that's when we started going into sort of lockdown mode and made sure nobody talked about it. But until then, yeah, we didn't do anything special. People were just very professional. I mean, we did actually lock everyone in the studio and not allow them to leave for five years. That was a joke, by the way. We don't lock anyone in the studio. But no, it was just that everyone was very professional. And then, in the end, it was like, "Let's be very professional and make sure you don't talk about it."
Except for Hi-Fi Rush, are you already thinking about any new projects?
We're always thinking about new projects, so whatever that may be, it's always lingering. What's next? So don't worry, we always have plans for something interesting and fun.