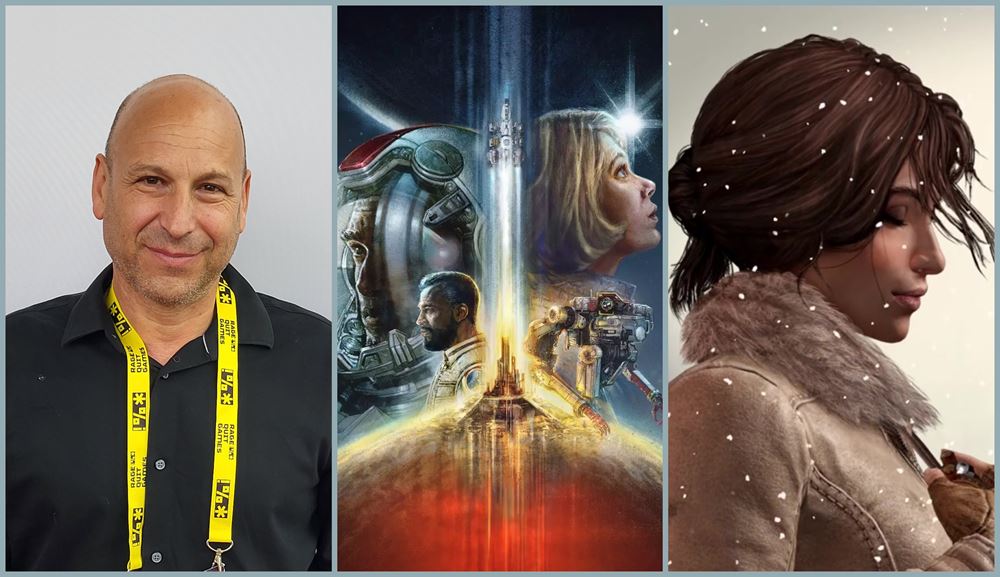 Inon Zur has left an indelible mark on the world of video game music. The Israeli-American composer who is known for his immersive scores for iconic franchises like Fallout, Syberia and Dragon Age, recently captivated audiences by opening Gamescom in Cologne with his performance of the main theme from Starfield. His unique blend of orchestral and electronic music has not only earned him numerous awards but also cemented his reputation as one of the industry's leading composers. We had the opportunity to talk to him during the Digital Dragons conference in Krakow where he had a talk about building a memorable and signature score for an "Out of this World" game. During the interview, he told us more about the process of composing iconic music for Bethesda's games, revealed his love for Syberia, and explained why he approached Starfield as a philosophical work and not just a game set in space.
How did your journey as a composer start, and what led you to video game music specifically?
That's a very weird story because I actually did not plan to do video games at all. From 1995 I started working at the Fox Family channel as a staff composer and I composed hundreds of TV episodes for Power Rangers and others like BeetleBorgs and Big Guy and Rusty the Boy Robot and lots of other shows. And I thought TV was great. But then one thing is that you always have to work really fast and you hardly record any live instruments and it was always tense. 
And then one day I got a surprising phone call from an agent who said that he's an agent for composers for video games. And I said, "What? Composers for video games? Is there something like that?" Well, it was 1996, so I said I'm not interested. But then he said, "You've got to try it! It's very interesting and they record live orchestras and they have good budgets." And I tried once and here we are today.
So you haven't thought about switching to a different medium, maybe doing movies or series?
Here and there I did movies. In 2013, I actually did a pretty big movie with Lionsgate and I'm doing a lot of trailers also for movies. But video games are probably my main thing for the last 26 years. Although next year I'm also scheduled to score a live action TV series.
And what factors influence your decision-making process when selecting which projects to collaborate on?
Each game has its own uniqueness. And also you've got to understand that people are working on these games way before they start with the music. They're already very attached to it and there's so much work [done]. So I cannot just jump and say, "Sure, let me just write some music and give it to you." No, that's not the way. First, I meet them, go to their studios, and talk to them. I even - if I can - play the game. I'm really trying to spend as much time as I can with them to learn and study the game. More than anything else, for me as a composer, when I'm approaching a game, there's always "the three W's". There is the "where", there is the "when", and there is the "why". Where is this game happening? When? Is it in the future? Is it in the past? Is it in the present? And then why? "Why" is the most important. "Why" is, like, what's our motivation? What is the essence of the story?
And more than anything else - what are the emotions you want me as a composer to instill in the players? Because music - as I always say - is serving as the fourth dimension, which is the emotional dimension. So, you have colors, the views, you could listen to stuff. But as far as emotion - this is music. You have to understand the "why" as deeply as you can before you even start choosing the style. And then we start the process, and I start to come up with ideas. And then they say, "Okay, this is great!" Or, "Oh no, It's totally not what we were thinking. Let's try a totally different direction."
And sometimes it goes back and forth. Let me give you an example - Fallout 4. The main theme is very, very famous - with the piano and everything - this is version 29. Starfield, for example, what you hear right now is actually version 12 of a totally new theme after I did 15 versions on a previous theme that everybody thought was good. And then Todd Howard says, "I like it, but I don't love it." Boom! Back to the drawing board! After you sort of slide in and you understand what you're up against, then it starts to go smoother. But the beginning is challenging, always.
Is there any genre that you prefer? 
Good question. I want to say yes and I want to say no in the same answer. Because, my first go-to is orchestral music. And this is also what I'm more famous for. But, for example, Fallout is not orchestral so much. It has a lot of sound design stuff, which I love to do. Outriders, for example, which actually was made here [in Poland], by People can fly, is very synthetic and very hard, harsh, kind of a more industrial style and electronic hybrid music, which is not known as my forte. Still, I love doing that. 
I could give you more and more examples. At the end of the day, it's more about, "Was I able to create an original score?" Something that people will listen to and say, "Wow, this is something new. I haven't heard something quite like this before, or this is something that I can connect to, but yet there are elements there that are new to me, that are ear-opening." - This is what I really love to do. So I cannot really limit myself to style, but if you ask what I love to do - this is what I love to do.
Can you walk us through the process of composing a main theme? Do you typically have a complete concept for the composition, or is it more of a layering process starting with a single instrument and building from there?
I always have the concept, but the question is, is my concept what they have in mind? Like with Fallout theme version 29. I mean, I can come up with something that I think is great - and this is after I saw the game or I understood the game, or at least I think I know what it is all about - and they'll say, "hmm". 
Let me give you an example - Outriders. When they came to me - People Can Fly, Bartosz Kmita - I asked them, "So why do you want me to do [the music for] the game?" And they said, "Because we really liked your score for Dragon Age, we really liked your music. Can you compose the main theme for us or the music for us?" And I said, sure. And I composed something in the style of Dragon Age - that's what they like. I sent it to them, and they said, "No, no, no, this is not what we want!"
And then I said, "Okay, let's go back to the drawing board." It's all about planets and aliens and stuff. I was like, "All right, let's try to do something totally synthetic, like synthesizers and stuff." So I did this analog, electronic stuff and they said, "It's a little closer, but no, let's try again." It took us three months just to hammer - not the actual main theme - the actual style, the balance between the orchestral sound to the synthetic sound and to the process sound design, before we even started working on the main theme.
So sometimes you compose something and it's *snaps fingers* You got it! Let's just change it here and a little bit there. And sometimes it takes months. But the most important thing, after all, together we came up with something that IS the game. For example, with Fallout, when you hear the first few notes, you know this is Fallout. To come up with something like that - that's what takes so long. And I must tell you, it is also a collaborative process. Yes, I'm composing the music, but the audio director and the producer - they're deep inside - they're commenting, they're coming with their own ideas. They're very, very active. So it is a very collaborative work.
And when you start composing, do you have a go-to instrument that you always start with?
I always try to describe it to somebody that is not a musician as, let's say, somebody tells you, "Tell me a story in a picture. This is just a story, I want you to draw my story." How do you start? Do you start with red? Do you start with a circle? No, you start with thinking. You start to imagine, overall, how this should sound. This is at least the way I work. I already hear something inside my head. And after I hear something inside my head, then it starts to sort of happen on its own.
So it's not like I always start with piano, or I always start with strings, no. I always start with something that I think about. And it's already happening here *points to head*. And that's why when you draw this story, you don't think about, "I'll start with red or I'll start with a circle." You just start, and then it's somehow happening. 
You've created music for a variety of different genres and platforms, from television to video games. How does your process or approach differ depending on the medium?
You might think that movies, TV, video games are such different genres or medias, but overall, music is music. And the music comes first and foremost to create emotions. The only problem is that in movies and TV you've got to be locked to the picture and describe exactly what you see. In video games, you cannot be locked because you cannot really predict what the player is going to do, right? So the only thing you could do, is go to the very pure, basic emotion of what they want to feel, and then you write this music based on what you think they need to feel right now. 
So let's say that there is a level of one hour in a very dark and scary [location] full of mutants and vampires that are about to attack you. You cannot write every second of it. What you could do is create maybe a three minute piece that is going to change - It's going to ramp up and then go down - but overall, it'll capture what you feel. Because it doesn't matter if you see this or that, if you're here or there, you still feel the same - you're scared - so this is what I write. And then we find a way to loop it in a way that the music is not going to feel too repetitive. But overall, you just try to connect yourself directly to the emotions rather than to connect to what's going on on the screen. Because there is no way that you can be connected to it - a game is unpredictable.
Could you describe how your musical composition style and process have transformed over the course of your career? 
Good question. I don't know. I mean, I think that every day I'm learning something new. Every day I listen to new music and every day I come in touch with different people. And it's a learning process, it's a growing up process. It's like you have a room with lots of tools. And every day you buy something new and you put it there. And it's there - you don't touch it - but it's there. And then every day you enter this room and you look and go, "Today I'm going to choose this and this."
So sometimes you'll just go and choose what you used to do. But sometimes you'll go, "Oh, this is new! I just learned this yesterday. Let me try that." The more tools or artifacts or whatever you want to call it you have in your room, the more possibilities you have. So this is only one angle. The other angle is, who am I? You're getting old. You're learning more. You're changing. You look at life differently. As an artist, it does influence what you write, how you write. When I was 30 years old, everything was fast, my music was also very fast. And now it's a little bit more sophisticated. It slowed down a little bit. It's more ponderous. It's who you are. 
And has it become easier for you, based on all of your experience?
No. It's still a challenge. It's always a challenge.
Even with all the new tools and the new technology?
It actually makes it harder, because you have more choices. 
Many players often cite music as a key component in their emotional connection with a game. How do you approach creating music that resonates with players on an emotional level?
The best way to go about it is to dive as deep as you can into the game. Music is really inseparable from the actual game. I always say that the best score is the score that - during the game - you don't really hear, you feel it. You don't notice the music but it enhances your feeling. If you'll play the game and the music is playing all the time, but you didn't notice [it] but something makes you feel that you're scared or angry or in love or all these emotions, then I succeeded.
If the player actually notices the music too much, they will turn it down. It will just really take too much of their attention. So for me, it's always [trying to find] the balance. There are going to be moments where I know that they're just going to wander and soak the beauty. This is my time to play a very minimal melody. Because they will go and they will see this beautiful landscape and they'll hear this melody. And every time they hear the melody, they will see the landscape in their eyes - this is the connection. And this is also how I, as a composer, get connected with the player and create the connections between the player and the game through the music.
The music for the Fallout series is iconic and much beloved by fans. Can you talk about your creative process for this series, and how you aimed to capture the essence of a post-apocalyptic world in your score? 
So Fallout is a very unique experience. Because Fallout represents - more than anything else - an alternative reality. It is a very realistic game that is happening in a totally invented reality. Like something happens in the 50s and right now we're in 2036 or 2050. And the world evolved in a totally different way from the 50s and now, 80 years later, where are we? We are in a totally different reality but still on this planet, still with the influences of the 50s, still human beings, right? With the same emotions and everything, living in a parallel reality. How can you approach it?
Yeah, I was grappling with this for a long time, throughout many years. Because I did Fallout Tactics, then I did Fallout 3, and then Fallout: New Vegas, and then 4, and then 76. And every time it's the same struggle. How can you create music that will tell the player you're still on the planet, these are still human beings, but the reality is not the same reality? One of the techniques, for example, is taking regular instruments, classical instruments, but playing on them in a different way. So you take a guitar and instead of playing like this, you just bow it with a bow. Or take a piano and hit on it, or play the piano strings, or just bite the strings - do all these weird things on traditional instruments - so when the player listens to this, they're like, "Wait a second, I know this sound! It's really familiar but it's not familiar." Yes, [that's] exactly it! It's familiar because you're still on Earth, it's familiar because you're still people, human beings. But it's unfamiliar because the reality is different. So in this reality, people are playing on the same instruments but in a different way.
So this is one way. The other way is the other way around. Take a vase and play on it. Take a chair and hit it like a drum. So you create very familiar rhythms, for example, but on a couch, on a chair, on a body part. So again, "Oh yeah, this is rhythm. But wait a second, what is it playing on?" Same technique, right? You're doing something familiar in an unfamiliar territory. But more than anything else, Fallout always has duality and it is the strongest essence for Fallout. Fallout encapsulates despair and hope. The fear and the happiness when you discover something or recover something. So you need to find a way for the music to tell you a very, sort of like a duality kind of a story. It's dark, but you still have hope. It's frightening, but eventually you will win. How can you do it? Again, that's getting a little deeper into musical terms, but this is what I'm trying to achieve.
So it sounds like Fallout was a real creative challenge.
Oh, Fallout is, I think, one of the biggest creative challenges for me. Throughout my whole [work], yeah. Just because of this - it's a parallel reality, what the hell are we going to do?
When composing for a franchise with multiple installments, like Fallout, how do you ensure continuity in the music while also providing a unique score for each individual game?
It's still a franchise, so you use the same thematic ideas, mainly the main theme. So, let's take an example. Fallout 3 started like the new journey of the current Fallout series. Because before that it was Interplay - it was Fallout 1, Fallout 2 - those were different games. Fallout 3 actually started the new journey. It was very dark - or it was more about Doomsday - so the music told the same story but in a very dark and sort of war-like way. Then came Fallout: New Vegas, which is quirky and like a Wild West kind of a thing. So you tell the same story but you add twang guitars to it.
Then came Fallout 4 which is a very moving story about the husband that is losing his wife and is looking for his son. It is a very emotional story, that's why I use the piano. Fallout 76 is about the rebirth and celebrating what we achieved, but somebody is coming to get us. So Fallout 76 is more majestic in a way. So each one of them I'll use the same motifs but in a very different way that is part of the story.
Is it easier for you to compose for a franchise that you already know? Or is it always a challenge?
Each instance is a different challenge. Because if it's like a repeating franchise, then it's going to be challenging to take something that will still feel cohesive and within the franchise, but then [you have to] do something new. How can you do it? It's a challenge. But then when you do a new game, like Starfield for example, then you need to start from zero. So on one hand, all the options are available, right? You're not committed, you're not hooked to anything else, but then what the hell am I going to do here?
Let's talk about Syberia.
Oh, almost my most beloved.
Syberia is the life work of the late Benoît Sokal. Can you describe your experience collaborating with him? 
I knew Benoit quite well. We worked together for many years. Every time I would come to Paris, we would go and drink together. I knew him and Martine, his wife. Benoit was a huge inspiration for me. He was a real artist. It was him and the pencils and the paints. It felt like you're in the impressionist era and you're with Picasso or Monet. With him I felt like this is as real as it can get when it comes to art.
I have no doubt that it had a tremendous influence on me. Syberia is such a magical world that sometimes - unlike some other games - I didn't really feel I had to write the music, the music almost wrote itself. Because just seeing all the magic he created, it's like I already heard the music in my ear. There are all the games and then there's Syberia. Syberia is a very different angle in the way I was doing stuff.
Obviously the work with Bethesda, I think is the most influential one that I did. Because these are probably the best games I was working on, so I was lucky enough to keep on working with them. Syberia is almost like not a video game for me. It's like a piece of art that stands on its own. It's not a movie, it's not a video game, it's not a TV series, it's something on its own. And that's the way I treat it. It's very different. It's not better or worse, it's just different.
What is your approach to composing music for games based on a movie or series license, such as Star Trek, Pirates of the Caribbean, Naruto or Avatar? Does the original score from the source material impose any limitations on your creative process?
Somewhat, yes. Which is again posing a different kind of challenge. But after all, we are workers for hire, right? They're hiring us. That means that they value our work. So we're not going to say we're not going to do it, right? I almost never say no to a game. And every game poses a different challenge. And so, games like The Lord of the Rings: War in the North - which was a big one - so it's Howard Shore, but how can you do Inon Zur in Howard Shore? It was not easy, but yeah, we did it.
Let's talk about Starfield. Could you share your primary sources of inspiration while composing the score for Starfield?
So, that's really interesting, because you would think Starfield is a space exploration game. It is, but I actually approached it from a totally different angle. And that happened in 2016. Todd Howard told me, "Hey, we want to meet you, come over." And I didn't really know what we were going to talk about. And he says, "Listen, I'm thinking about a new game here. I actually was thinking about this game for many years, and now we have the opportunity to make it. It's a game in space." But then he told me a few things that I still cannot say now. But it was more about the "why".
It wasn't about where it happens, not how it happens, not when it happens. It's WHY it's happening. So, the main motivation for me writing the music for Starfield is mainly philosophical. And it has to do with a few questions that Starfield poses, and then tries to answer very boldly and bravely. And so the music, more than anything else, is very inquisitive. Like the game, it poses an unclear message. And I leave the players with some kind of a sense of - It's bigger than us, and it's deeper, and I need to think about it.
And this is the way I was approaching Starfield, and not necessarily, "Oh, stars, space, spaceship!" It's more about these emotions - people will ask these few questions and look for the answers - it almost has nothing to do with space. But I cannot say more than that. When you will play Starfield, it has all the elements from space exploration, it is a space game, and it is a sci-fi game, don't get me wrong. But when you start to get deep into Starfield, you start to find the deeper meaning of this game. And this is where things start to be interesting.
And at what stage in Starfield's development were you brought in to compose the score? 
[There was] no game [for me to see yet]. Not even concept art. What I always got - and this is a very interesting way to work - they were sending their photographers to shoot on sites, and they were bringing [photos of] these sites to create inspiration for their artists. So their artists got these, and I got this. And I composed to this, and their artists wrote to this. And that's why when you play Starfield, you'll feel that the music was almost born inside the game. Because I started when there was no game whatsoever. There were just some concepts and some ideas.
And this is not a standard process, right? 
No. But that's why Todd Howard is such a genius. He's doing things differently.
During your talk you mentioned that you usually come up with the main theme, and then you compose the rest of the score. 
But not for Starfield.
So why was the process different?
Because for Starfield, we first wanted to create, for lack of a better term, the soundscape, the musical touch, the signature of the sound. If you remember in the beginning [of my talk] I was talking about these particles and then the long melody that goes inside, or the space chord that we explored. All these were only tools. But these were the pillars that later on it was easier to create the main theme on them. So unlike other games - where I create the soundscape and the main theme at the same time - in Starfield it was way more complicated. Which, by the way, was fun.
And can we expect some vocals in the score?
Some, but not a lot. Actually, I created an alien vocal there from a singer that sang and totally changed it. So there's about ten minutes of music here and there that has something that you hear and you don't understand that this is vocal. But suddenly you realize it is a vocal, but it's very different. It's like an alien vocal.
Was the process similar to the alien vocal that you've shown us during the talk?
Somewhat, yes. That's why I showed it. But it was way more complicated. I just gave it the tip of the iceberg.
And can you tell me how you see the future of composing video game scores and what role will artificial intelligence play in it?
That's a million-dollar question. I mean, we believe that music, more than anything else, is something that is part of the human race. So wherever the human race is going and the folk attributes, this is where music goes. So it's not about development or something futuristic, it's more about where we are going.
There was a pandemic, there is a war in Ukraine - it has a huge influence on how people think and music is being influenced. So we don't think the computer could, at this point at least, come up with the material that is coming out of human emotions. Because music is coming from human emotions. And we are all part of the human race. So we are very much influenced by what's going on around us. And artists are sort of like the mirror of what's going on. Because we are able to take our feelings and translate them into art - drawings or music or anything else.
People are just like, "Alright, so what is the future?" First, from a technological point of view, obviously computers are going to be better. And AI and machine learning, it's all going to come to play. Don't get me wrong. But I don't believe that, at least in the next 100 or 200 years, computers could compose music; or they could, but it's not going to be as deep or as interesting or as unpredictable as [music by] a human being. So AI will play a big part in other things. But with music, it's going to take time.
So you don't think AI is going to make your work easier in any aspect?
Oh no, it's going to make me work harder. Because when everything comes down to, "Okay, what is the musical idea? How can I come up with this musical idea? What can I do with this? How can I develop where I'm going to take it?" No library in the world and no great quality of sound in the world, no AI could help me with this. I have to do it myself.